See it. Assign it. Improve it.
Document site progress and ensure tasks' prerequisites quickly and easily.
Simple. Clear. Functional.
360 Reality Capture is an easy way to document your site visually, manage the work remotely and improve productivity continuously. 
360 Reality Capture comes with a cloud-based web application and a mobile app. A Demo Project is included in the web application, so you can play around and see what you can do even if you do not have a camera yet.
See in a matter of minutes where you have problems and identify their root causes.
Assign responsible persons to remove observed problems and deviations.
Document the work progress, learn and improve the workflow continuously.
360 Reality Capture simplifies managing your project compliance with Building Safety Act (and its "Golden Thread") and Part L.
360 Reality Capture mobile app
Record, transfer and upload
That is all you need to do. The mobile app is a fast and simple field tool to capture and transfer video material to the Aiforsite Platform directly from your smartphone. No need for an SD card or manual transfer of raw video material to a computer. Just a few clicks on your phone and all recorded material is uploaded to the cloud, ready for review.
To use the mobile app and document the site, you need a user account in the Aiforsite platform, an Android smartphone and an Insta360 ONE X2 camera. 
Shoot the videos on site with the mobile app. View 360 material, make observations on safety, quality, schedule etc., and assign responsible persons in the web application.
With 360-degree video footage and documentation, you can go back in time. To check, for example, are the insulations done in the suspended ceiling on floor X.
360 Reality Capture Web Application
All the 360 images and videos you have recorded at the site are available for review in the  360 Reality Capture web application aiforsite.io for desktops and laptops.
In the system, you select the area or floor, the time, and the place to be viewed. The walkthrough path allows you to move to the desired location by clicking on the points on the floor map.
View, make observations, and assign tasks
You can check visually identifiable prerequisites of the working areas like state of cleanliness, material availability, workers, or critical tools.
Once you have identified a need for corrective actions, you may add observation notes on occupational safety, quality, and other matters on the video image.
The system generates a ticket that can be assigned and tracked. The tickets are sent from the platform by email, and the recipients can open and react to the observation notes directly in the email without the need to log into the system.
More than just site documentation.
As part of Aiforsite's Productivity Platform, 360 Reality Capture complements real-time situational snapshot of the site and help manage and improve work performance.
With 360 Reality Capture you can: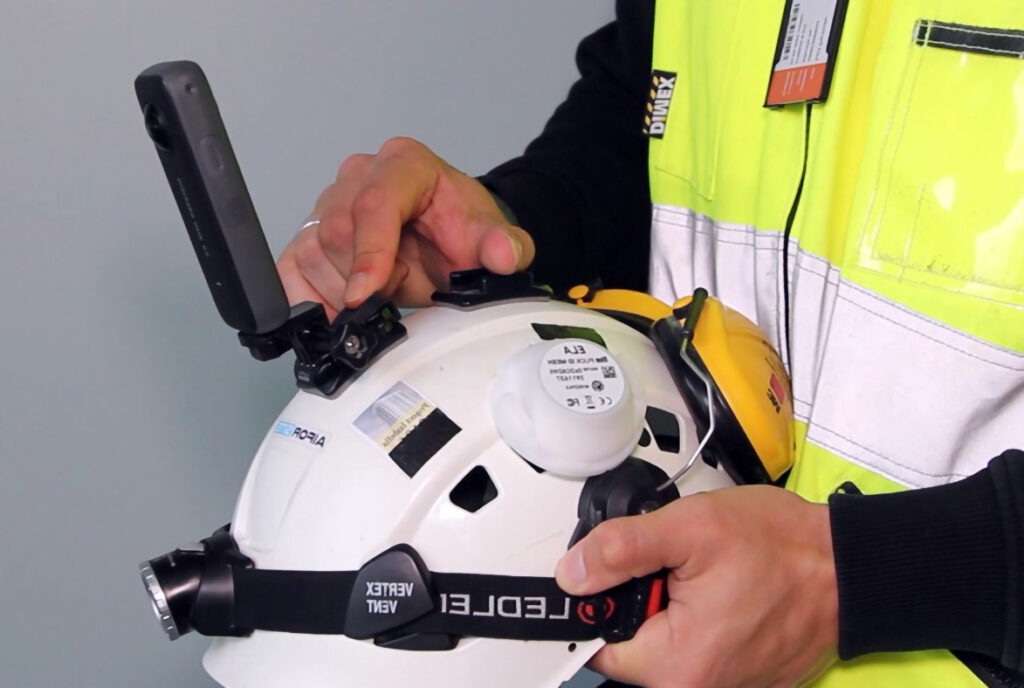 Frequently Asked Questions
When does my 360 Reality Capture Free Trial start?
To start using 360 Reality Capture, first you need to create a user account in Aiforsite Platform. Your free 30-day trial starts from the moment of uploading your first 360 video recording to the Aiforsite cloud platform.
What is a Demo Project?
Activate the Demo Project in the 360 Reality Capture web application when creating the user account. You can see how the product works even if you do not have a 360 camera yet. You can try all features of the Standard Paid Plan except adding your own video recordings. The Demo Project includes one short 360 recording of a residential site. You can view 360 images, move around, try the walkthrough path, make and assign observations, create your own observation categories, add project members and stakeholders.
Why do I record 360 videos, but see only 360 images?
The Free Trial and Standard Paid Plan include 360 image viewer, but not a video viewer (option in the Expert Plan). Yes, you record 360 videos and upload them to the Aiforsite cloud, but in return, our system extracts 1-2 sec image frames, which are lighter and need less storage capacity. 
Do I need 360 Reality Capture Mobile App for 360 video recordings?
Not necessary, but highly recommended. It helps the video recording  process significantly. 360 Reality Capture Mobile App is a field tool for recording, transfering and uploading 360 videos to the Aiforsite cloud platform. It removes the need for manual transferring of recorded material from the 360 camera to computer by using SD cards. We highly recommend to download and try the mobile application. 
Can I use the web application on a smartphone or tablet?
A desktop or laptop screen is optimal for observing 360 images and videos in detail. That is why the web application is designed for use on a computer in the first place, not a tablet or phone.
Join the forerunners of new digital technologies in construction.
Take visual documentation of the site to the next level!