Proven technology for construction sites
Artificial Intelligence for Construction (AIC) is a smart technology solution that works as a part of any digitalisation solution you have at your construction site. We create substantial value for all industry stakeholders with the AIC technology platform and incorporated technologies.
Our AIC application is browser based and provides all users with the same information and smart practical features for site monitoring and management––on any device with a web browser. As all the data is in the cloud, your focus can simply be on your work using the application without a need to invest in any new information technology environments or IT development projects.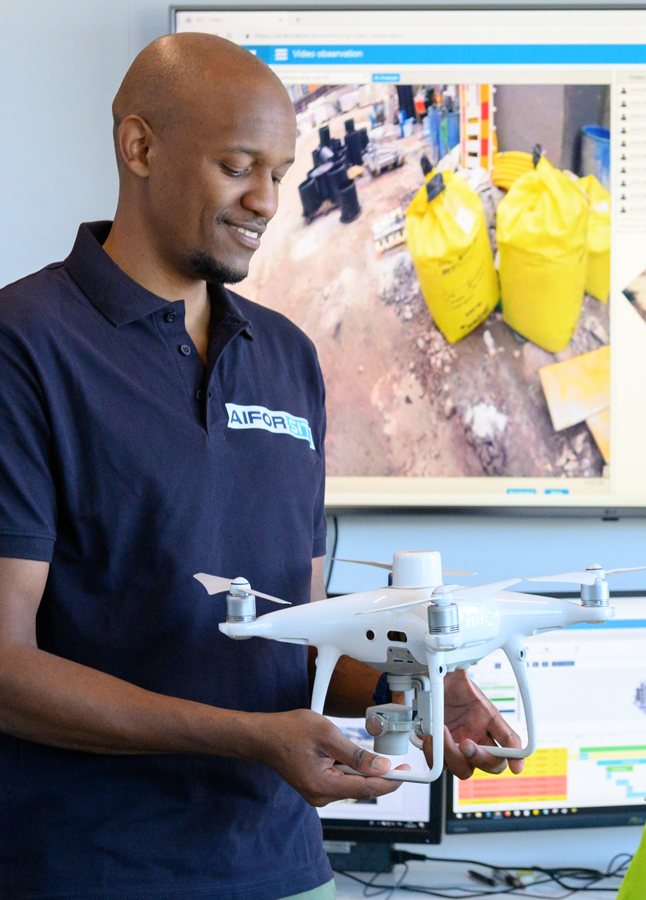 The Dashboard shows the site situation by bringing the key visual data sources into one view. For example, you can quickly grasp the real situation at the site through a precise 3D drone model and latest camera feed from the site. You can also adjust the view according to your preferences and, for example, add in a rain radar and schedule information.
Benefits our customers have reported
You can easily create different reports utilising predefined templates. Reports are available on, for example, conditions, completion rate, productivity, and occupational safety. 
Benefits our customers have reported
Site cameras transmit and record the actual situation at the site. You may view live video feed from the site and direct and focus the camera as you wish. You may also retrieve still images from the system as they are saved once every minute throughout the entire project. Recording the video feed is also possible.
Benefits our customers have reported
Video observation (360 video)
Your site is fully documented with the 360 video recording. You can easily move the video to a desired location by clicking any location on the site floor plan. You may add observations on occupational safety, quality, and other matters on the video image. These observations can then be managed as assignable tickets.
Benefits our customers have reported
Drone recording produces a very precise––precision of less than 2 centimeters or 0.8 inches––3D model of the site. You may visually compare different points in time in order to, for example, monitor the progress. You can overlay design drawings on top of the 3D model according to the actual set of coordinates and compare one to another to check the progress, for example. You can perform different measurements, such as length, area, and volume in just a few seconds which reduces time and effort in various site measurements. 
Benefits our customers have reported
You can quickly view the actual site situation versus the plans simply by comparing your BIM model to the 3D drone model.
Benefits our customers have reported
Our positioning solution tracks the location and movement of agreed resources almost in real time. The data can be used to manage work productivity, ensure that workers are evacuated in a crisis situation, and trace possible exposures such as COVID-19.
Benefits our customers have reported
Multiple tools for task management.
Benefits our customers have reported
The AIC application contains features for resource management. You can monitor and manage the productivity and time management of both material flows and site resources.
Benefits our customers have reported
Automatic and wireless technology provides tools for site conditions management and ensures that the schedule can be met. You can monitor the conditions on the site in real time and react quickly if any of the alarm limits are activated. Conditions data is for the full duration of the project and you can utilise it to quickly create reports.
Benefits our customers have reported
The site data collected is located in a single location called DataHub from where you can quickly retrieve any necessary files. DataHub can be connected to your project data bank in which case both the collected site data and your planning documentation are available in the same location.
Benefits our customers have reported
CREATE INDUSTRIAL CONSTRUCTION
Deploy data driven production management and immediately create added value for all project stakeholders. At the same time, you enable the industrialisation of construction production.