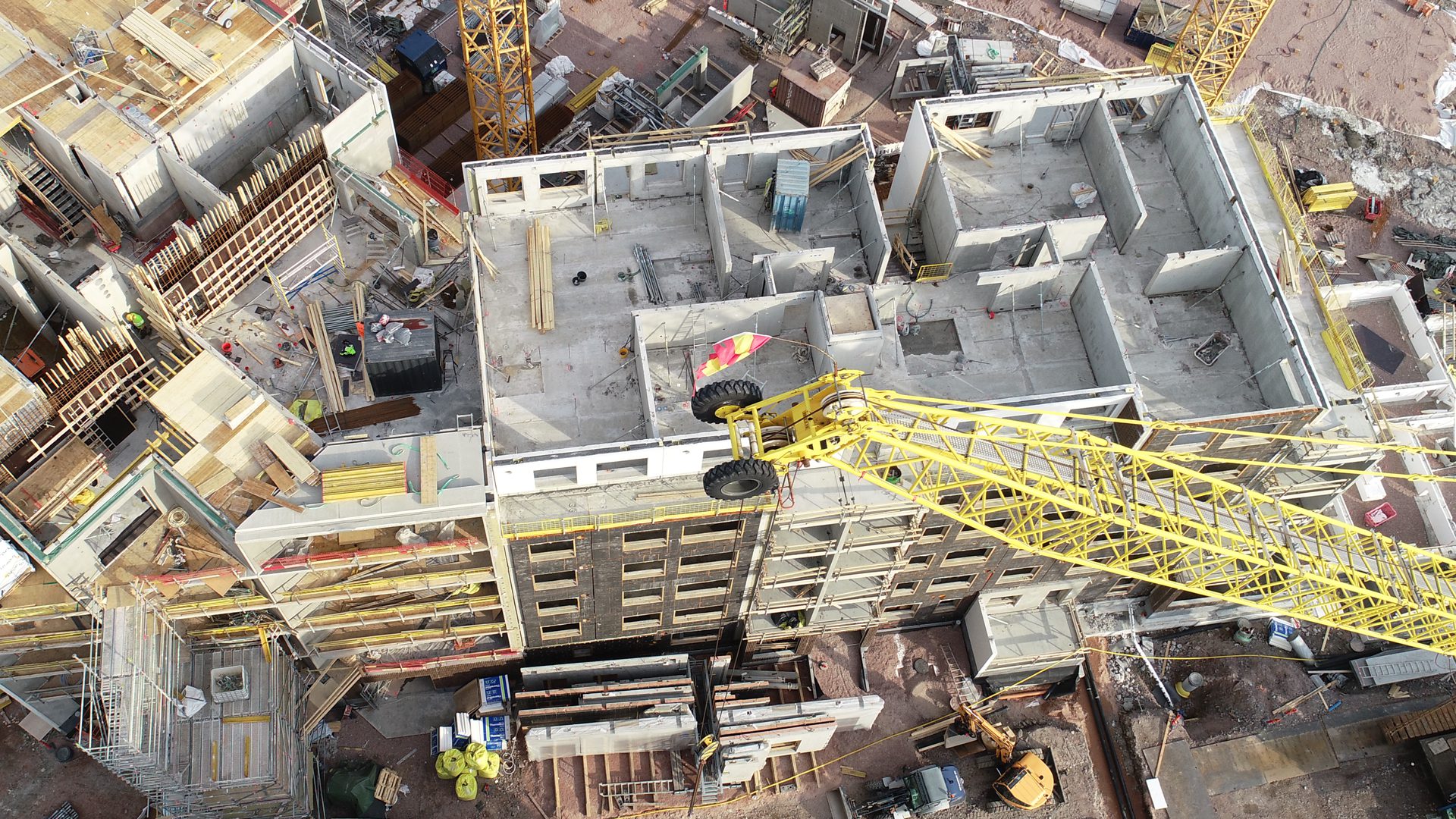 testislide-1
Smart solutions for your construction site
drone_1920x1156
Situational awareness for all
Real time situational awareness for all stakeholders
drone_1920x1156
Smart data driven management
Automation with artificial intelligence

drone_1920x1156
Standardised site data collection
Unique service with dedicated Digi Engineer

Next level productivity in construction
In real time. Transparently. Remotely.
Construction should be a well managed and timed flow of installation workers and previously manufactured materials, and be based on flawless plans for both building and production. Using Aiforsite technology allows you to monitor your site's progress in real time, automate reporting, decrease waste, and manage the site efficiently, even remotely.
Aiforsite helps you adopt data driven management to your site. We believe that the construction industry has the opportunity to take a productivity leap–with standardised production processes, key performance indicators, and the principle of continuous development–similar to the industrial one decades ago.
SMART TECHNOLOGY FOR A CONSTRUCTION SITE
Automate work tasks utilising artificial intelligence. Make better decisions with analytical tools. Have the same situational awareness available for everyone, regardless of time and place.
In real time. Transparently. Remotely.
Take your productivity to the next level with Aiforsite. Our technology works as a part of any universal digitalisation solution you have for your construction site. The Artificial Intelligence for Construction (AIC) technology solution creates the conditions for industrial operations on the basis of real time data. 
Take your productivity to the next level.
Improve the productivity of construction: use real time monitoring to collect data and observations and automate management and work tasks.
Improve occupational safety: automate safety observations and collect the real time location information of the workers and exceed the regulatory requirements.
Increase the transparency of the construction industry: make the waste visible, monitor the progress in real time, and document carefully throughout the project. 
Shorten the lead time: increase useful work time and decrease waste and get the tools to improve site management, even when working remotely.
Bioenergy heating plant construction managed and monitored with Aiforsite technology
The building of a new bioenergy heating plant is well underway. Headquartered in Helsinki with over 450 000 customers in Finland the owner Helen Ltd. produces electricity, district heating and cooling as well as energy distribution and sales. Aiforsite provides the versatile technology solution to support Helen to monitor and manage the site. Things such as preparing for the different phases of the project and getting a comprehensive situational awareness are considerably easier.
"At the beginning of the project we knew we would absolutely need a camera surveillance system on the site. We did research to find out the kinds of systems market currently has to offer. We were excited to find Aiforsite and began cooperating with them," says Project Manager Antti Saikkonen from Helen Ltd.